5 piece minimum & USPS or UPS Ground charge*

* Shipping charge USPS Priority Mail charge (to the USA only):
5 items = $13.60
6-12 items = $18.85
We would recommend calling us if you would like to order our soft perishable Lovesticks.
1-800-457-6213
You will get an email confirmation once your package ships.
Want us to ship to Hawaii, or need more than 12 items?… please call:
1-800-457-6213
Country Crackers - 5oz.
000009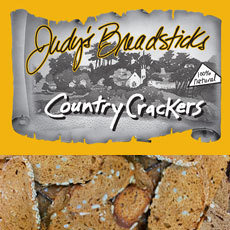 Country Crackers
THESE COUNTRY CRACKERS ARE OUR LOVESTICKS THINLY SLICED AND DOUBLE BAKED.
Country Style & Rustic, Delicious, Handmade, Vegan and Crispy. Fabulous with Cheese and any topping you can imagine.