5 piece minimum & USPS or UPS Ground charge*

* Shipping charge USPS Priority Mail charge (to the USA only):
5 items = $13.60
6-12 items = $18.85
We would recommend calling us if you would like to order our soft perishable Lovesticks.
1-800-457-6213
You will get an email confirmation once your package ships.
Want us to ship to Hawaii, or need more than 12 items?… please call:
1-800-457-6213
Twigs - Sweet Currant - 5oz.
000003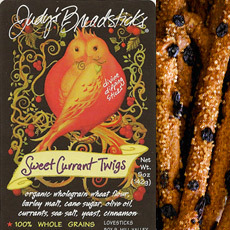 Twigs - Sweet Currant
100% ORGANIC WHOLE GRAIN, VEGAN, CRISPY, ORIGINAL & HANDMADE WITH LOVE.
INGREDIENTS: Organic wholegrain wheat flour, barley malt, organic sugar, olive oil, currants, sea salt, yeast, cinnamon.