5 piece minimum & USPS or UPS Ground charge*

* Shipping charge USPS Priority Mail charge (to the USA only):
5 items = $13.60
6-12 items = $18.85
We would recommend calling us if you would like to order our soft perishable Lovesticks.
1-800-457-6213
You will get an email confirmation once your package ships.
Want us to ship to Hawaii, or need more than 12 items?… please call:
1-800-457-6213
Lovesticks - Sunflower - 12oz.
000006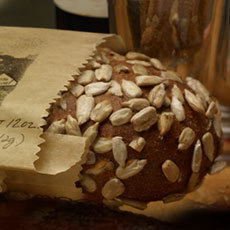 Lovesticks - Sunflower
We recommend for the freshest bread and to secure a faster delivery date to pay for second day air because USPS and UPS can take up to a week to deliver depending on your location.

The Lovesicks are protected in a sealed plastic bag. The shelf life of this perishable item is ideally one week from shipping date.

If you prefer to pay for second day air call us at 1 (800) 457-6213 and leave us a message for the best time to return your call.
VEGAN, SOFT, UNIQUE & HANDMADE WITH LOVE.
INGREDIENTS: Organic Whole Wheat Flour, Organic Wheat Flour, Barley Malt, Olive Oil, Sea Salt, Yeast, Rolled in Sunflower Seeds.